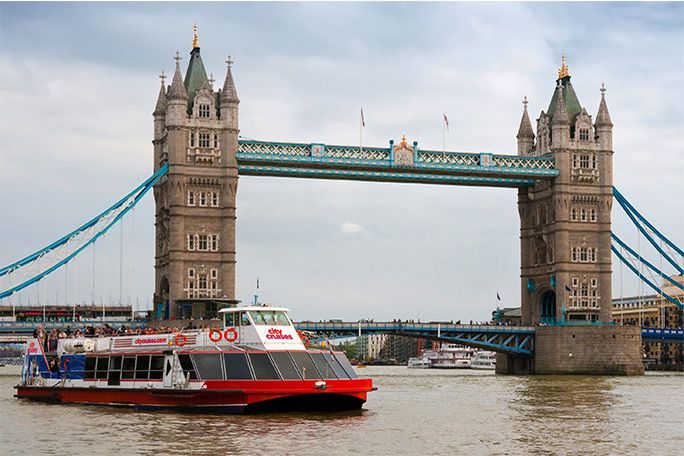 City Cruises – River Pass
Red River Rover er en heldags hop on hop off Thames River Pass som tilbyr ubegrenset tilgang til elven i 24 timer. Du kan hoppe på eller av ved hvilken som helst av de fire bryggene. Med komfortable seter, varme og kalde drikker, guidede kommentarer og kompromissløs utsikt fra allværs sightseeingbåter. Mellom stoppene er det guidede kommentarer til de mange severdighetene langs Themsen.
Red River Rover billetttyper:
Hop on Hop off Pass lar deg gjøre ubegrenset bruk av elvetjenestene mellom operasjonsbryggene:
Westminster Pier: Houses of Parliament
Westminster Abbey Waterloo Pier: London Eye, London Aquarium, London Dungeons
Tower Pier: Tower of London, Tower Bridge
Alle RiverLiners er utstyrt med to barer som tilbyr lette forfriskninger, snacks og drinker.
Operating Hours
Westminster Pier departures to London Eye/Tower Pier 
Daily every half hour from from 10:30 – 16:00 (14:30 last return, 16:00 no stop at London Eye Pier)
London Eye Pier departures to Tower Pier
Daily every half hour from 10:40 – 15:40 (14:10 last return)
Tower Pier departures to Westminster/London Eye Pier
Daily every half hour from 10:50 – 15:20 (14:50 last return)
Du bør ankomme minst 15 minutter før avgangstid.
Passasjertall er vanskelig å forutsi hver dag og kan variere på grunn av helligdager, værforhold, etc. City Cruises kan ikke garantere at du får den sightseeing-seilasen du har bestilt – sørg for at du ankommer i rimelig tid.
Alle båtene har sitteplasser og er fullt oppvarmet
Alle båter tilbyr åpne områder med flott utsikt. Mange har åpne dekk med forhøyet utsikt.
Adresse: City Cruises – River Pass, Tower Pier, GW4C, London
Tubestation: Westminster