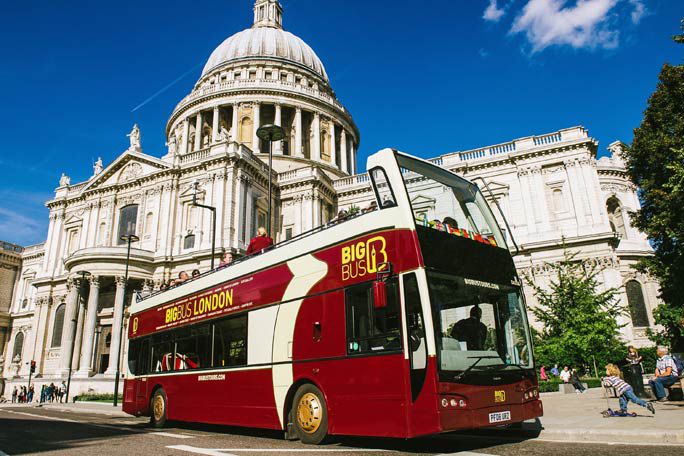 Big Bus Tour London
HOPP PÅ OPPLEVELSEN, HOPP AV FOR Å UTFORSKE. Rangert som den beste hop-on, hop-off bussoperatøren i London på TripAdvisor, gir Big Bus Tours kundene den beste muligheten til å utforske London i sitt eget tempo.
Billettene inkluderer ubegrenset reise på tre ruter som dekker alle de viktigste attraksjonene og landemerkene, kommentarer på 5 språk, gratis WiFi om bord og deres egen app med sanntids buss-sporing og en detaljert rutekart. En Thames-elvecruise er inkludert med alle billetter.
Med over 46 stopp rundt den vakreste byen i verden, er Big Bus Tours den ideelle måten å tilbringe tiden på ditt besøk til London. Tre ruter fletter seg sammen for å lage en runde rundt hovedstaden, og tar med seg alle de berømte severdighetene og lydene, inkludert Tower of London, London Eye, St. Paul's Cathedral, Tower Bridge, Westminster Abbey, Houses of Parliament og Big Ben.
BILLET:
Denne billetten gir deg muligheten til å se alle de beste severdighetene og attraksjonene i London i løpet av to dager. Kjør åpen dobbeldekkerbuss i 48 timer, hopp av og på ved over 46 stopp på tre forskjellige ruter som er praktisk plassert i nærheten av kjente landemerker og attraksjoner. Du kan hoppe av bussen for å utforske så ofte du vil og bli med på turen igjen når du er klar, eller bruke den første dagen til å oppleve en panoramatur rundt byen og den andre dagen til å besøke favorittstedene dine på nytt. Hopp om bord på et elvecruise for enveis reise fra Tower of London til Westminster eller omvendt. Opplev London til fots og opplev våre levende guider på et valg av tre gåturer.
INKLUDERER: Hop-on, hop-off i 48 timer fra tidspunktet for billettinnløsning på hvilken som helst Big Bus Tours-rute i London. ● Enveis elvecruise fra Tower of London til Westminster (eller motsatt). Du kan gå om bord enten ved Tower Pier (nær stopp 16) eller Westminster Pier (nær stopp 18). Elvecruise avgår omtrent hvert 40. minutt.
Velg mellom tre gåturer, som alle går daglig: Changing of the Guard klokken 10 (Stopp 7 – Trafalgar Square) City of London Past to Present klokken 13 (Stopp 14 – St. Paul's Cathedral) Jack the Ripper klokken 16 (Stopp 16 – Tower of London)
Rød rute: 2 timer og 30 minutter. Blå rute: 3 timer og 30 minutter. Grønn rute: 1 time
Sjekk også ut billetter til:
Madame Tussauds – London Eye – London buss sightseeing – Harry Potter museum – Tower of London – St Paul katedral – London Dungeon