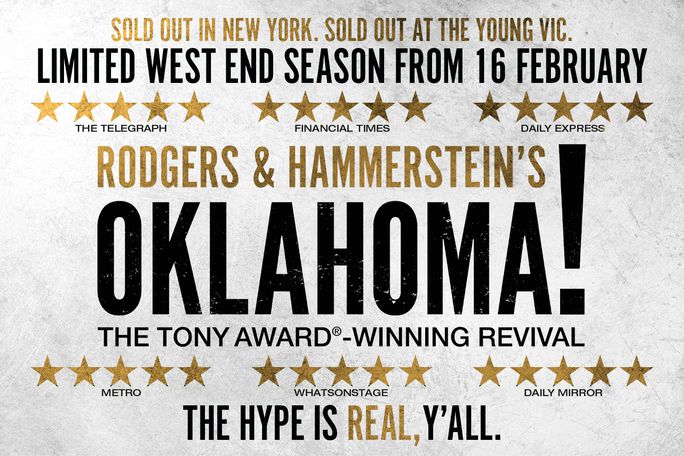 London Musical: Oklahoma!
«Oklahoma!» er en klassisk amerikansk musikal som ble produsert i 1943. Den er skrevet av komponisten Richard Rodgers og libretto-forfatteren Oscar Hammerstein II.
Musikalen er satt i Oklahoma-territoriet i 1906 og følger historien om en ung cowboy som heter Curly som er forelsket i en bondepike ved navn Laurey. Handlingen fokuserer på deres kjærlighetsliv og rivalisering med en annen beiler, farmearbeideren Jud Fry. Samtidig blir en gruppe menn i byen presset til å handle mot en gruppe av Oklahoma-territoriets urbefolkning.
Musikalen utforsker temaer som kjærlighet, rivalisering og konflikt mellom forskjellige grupper i samfunnet. Musikalen har blitt kjent for sine sangnumre som «Oh, What a Beautiful Mornin'», «The Surrey with the Fringe on Top» og tittelsporet «Oklahoma!».
Musikalen var en stor suksess og har blitt satt opp på Broadway flere ganger, og har også blitt til film og TV-produksjoner. «Oklahoma!» regnes som en av de mest betydningsfulle musikalene i amerikansk teaterhistorie og var en av de første musikalene til å integrere musikk, handling og dans på en måte som ga en helhetlig fortelling.
Adresse: Wyndham's Theatre, 32-36 Charing Cross Road London WC2H 0DA
Tube stasjon: Covent Garden
Forestillingen er avsluttet
Sjekk også ut disse musikaler:
Lion King – Les Miserables – Phantom of the Opera – Mamma Mia – Book of Mormon – Tina Turner – Wicked – Matilda