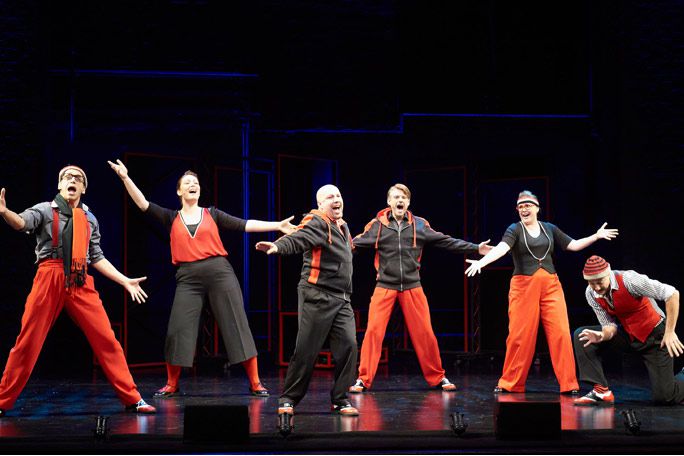 Showstopper! The Improvised Musical
Showstopper! The Improvised Musical er en musikal som blir improvisert på stedet av et ensemble av skuespillere og musikere. Konseptet går ut på at publikum gir forslag til tittel, sjanger og tema for musikalen, og deretter skaper skuespillerne en helt ny forestilling fra bunnen av.
Handlingen og karakterene i Showstopper! endrer seg fra forestilling til forestilling, avhengig av publikums forslag og improvisasjonene fra skuespillerne. Musikken og sangtekstene blir også improvisert, og tilpasses handlingen som utvikler seg på scenen.
Showstopper! er en forestilling som legger vekt på spontanitet og kreativitet, og skaper en unik opplevelse for hver eneste forestilling. Musikalen er kjent for å være morsom, overraskende og full av energi, og har blitt rost for sin evne til å skape en helstøpt musikal fra ingenting på bare noen minutter.
Showstopper! har blitt satt opp både i London og på internasjonale scener, og har vunnet flere priser, inkludert Olivier-prisen for beste underholdningsforestilling i 2016.
Adresse: Garrick Theatre. 2 Charing Cross Road London, London, WC2H 0HH
Tube stasjon: Charing Cross Road
FORESTILLINGEN ER AVSLUTTET