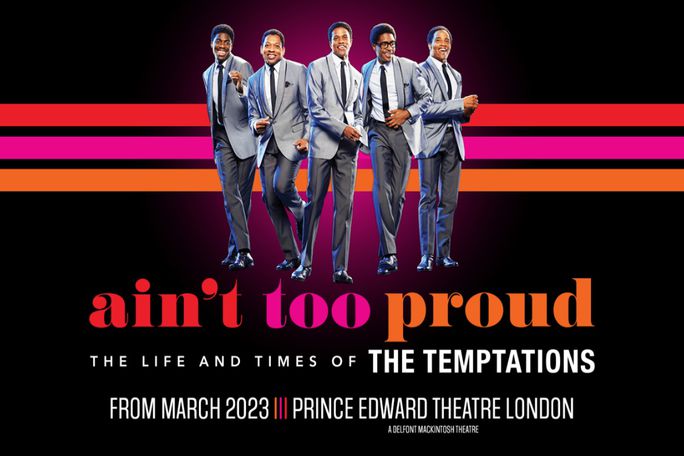 London Musical: Ain't Too Proud
«Ain't Too Proud» er en musikal som handler om historien til det amerikanske R&B-vokalgruppen The Temptations. Musikalen følger gruppens historie fra begynnelsen av 1960-tallet, da de dannet bandet i Detroit, til deres store suksess og utfordringer på 70-tallet.
Musikalen utforsker temaer som rase, politikk, kjærlighet og musikalsk suksess, og inkluderer mange av The Temptations største hits, inkludert «My Girl», «Ain't Too Proud to Beg», «Papa Was a Rollin' Stone» og mange flere.
Hovedkarakterene inkluderer de fem medlemmene i The Temptations, og musikalen viser deres personlige og profesjonelle utfordringer, som inkluderer rivalisering med andre musikere, politisk uro og individuelle kamper med rusmisbruk og personlige problemer.
«Ain't Too Proud» hadde sin premiere på Broadway i 2019 og ble nominert til tolv Tony-priser, inkludert Beste musikal, og vant én for beste lyddesign. Musikalen har blitt godt mottatt av både publikum og kritikere, og har turnert i USA og Storbritannia.
Adresse: Prince Edward Theatre, 28 Old Compton Street London W1D 4HS
Tube stasjon: Tottenham Court Road
Forestillingen er avsluttet
Sjekk også ut disse musikaler:
Lion King – Les Miserables – Phantom of the Opera – Mamma Mia – Book of Mormon – Tina Turner – Wicked – Matilda